23 Nov

Solving construction site connectivity | XCommNet & Collins Construction

XCommNet's secure fast and reliable connectivity solutions ensure Collins Construction can maintain their day to day business operations no matter what the environment
One of the key areas of business for XCommNet over the past few years has been the Construction Industry, and more specifically the construction sites where large scale projects are being undertaken from. This is mainly because a construction site of this size can often be a huge hub of activity with a variety of different staff members at all levels and a requirement for business continuity in often difficult environments. XCommNet's fast, reliable, secure and easy to use connectivity solutions have therefore been a huge hit with construction companies who want to ensure that all their staff – and business – can remain on-site and online. In addition, traditional telecoms require construction companies to contractually commit for a minimum 12 or 24 month contract at one static site, whereas XCommNet's solutions are portable and provide the flexibility of being utilised across multiple sites.
The Collins Challenge
This specific project for XCommNet features the internationally recognised Collins Construction. XCommNet were tasked with ensuring that Collins' cloud based application, that they use to manage their day to day operations and activities during a project, was kept online throughout the project. If this couldn't be achieved then the construction site would grind to a halt.
The traditional challenge that companies like Collins usually encounter on construction sites is that it's very difficult to establish a broadband connection via a phone line. This is a multi-faceted problem that encompasses providers not being able to provide suitable broadband contracts, a paucity of available telephone lines and remote environments that aren't able to support a connection. For this particular construction project, Collins required a solution that delivered maximum security alongside optimum performance to ensure their business processes were met.
Mario Matinelli, Director at XCommNet, commented on the project:
"We were delighted with this particular project and it highlights the fantastic relationship we have built up with Collins Construction. Working with clients of the calibre of Collins, underlines our capability to deliver fast, secure and reliable connectivity solutions to the Construction Industry. We hope that this project, and our wider work with Collins, can continue to enhance our reputation within the Construction Industry to keep their projects on-site and online."
The Solution
XCommNet have vast experience in this area of expertise and were able to quickly identify the best solution to meet Collins' requirements. XCommNet's multi-purpose and innovative SD-WAN mobile bonding solution was selected as it's a completely portable option that can be set up in less than an hour, in contrast to the 3-6 months it can take for a traditional phone-line and broadband connection to be established. XCommNet's SD-WAN solution also provides the capability to aggregate bandwidth, which was essential for Collins given the number of users that needed access and the type of applications that they needed to run.
Large construction companies, such as Collins, also require fully supported and integrated services, with agreed level of support and response time. As part of XCommNet's service the team provide prompt support and efficient customer service to ensure any issues are flagged up early and can be solved quickly. The security of the solution was also of prime importance for Collins and the intrinsic extra level of security provided by XCommNet's SD-WAN solution ensures a virtually unbreakable level of security.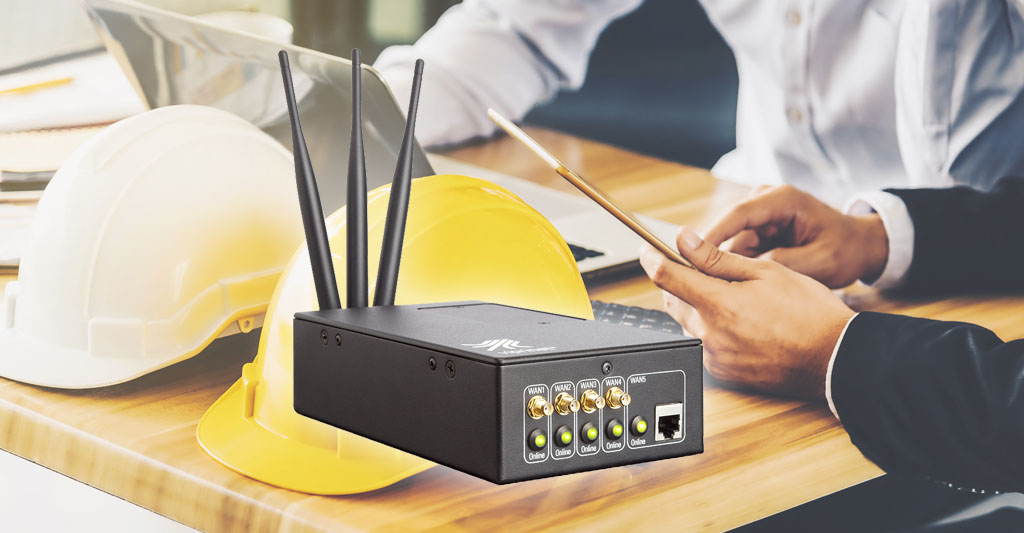 Why XCommNet?
XCommNet's SD-WAN solution was chosen by Collins as it met all of their requirements without fuss and was able to overcome the traditional challenges that have previously faced the construction industry.
Martin Llewellyn, IT Director, Collins Construction, said: "We first came across XCommNet following a recommendation from one of their industry partners. Our history with XCommNet is quite extensive having used their solutions for 15 separate projects to date. The scope of each project is different and depends on the location of the site office and whether the site requires separate internet presentations. Typically we utilise XCommNet's VPN 300 with a TP Link Archer C59 Wi-Fi router and external antennae where necessary.
"The solution meets our requirements completely. Before any project commences XCommNet are able to attend our site and gather all the information they require. This includes their team identifying what kit and SIMs are needed, determining the best course of action and liaising with site staff to ensure everything meets with our Project Team's requirements. This is invaluable to us as our involvement is kept to a minimum, which is exactly what we are looking for in a supplier.
"Since working with XCommNet, Dominic and Paul have been our primary points of contact and have provided excellent customer service to us across a wide range of projects. In terms of providing construction site internet and connectivity, it fulfils our requirements completely, and I'm sure this solution would be perfect for other construction businesses. With Dominic and Paul, I have complete trust in them to deliver for us and they have never let us down.
"XCommNet delivers every single time for our sites, and delivers peace of mind to our IT Team to allow them to get on with the job in hand."
Contact us for more information or to request a demo