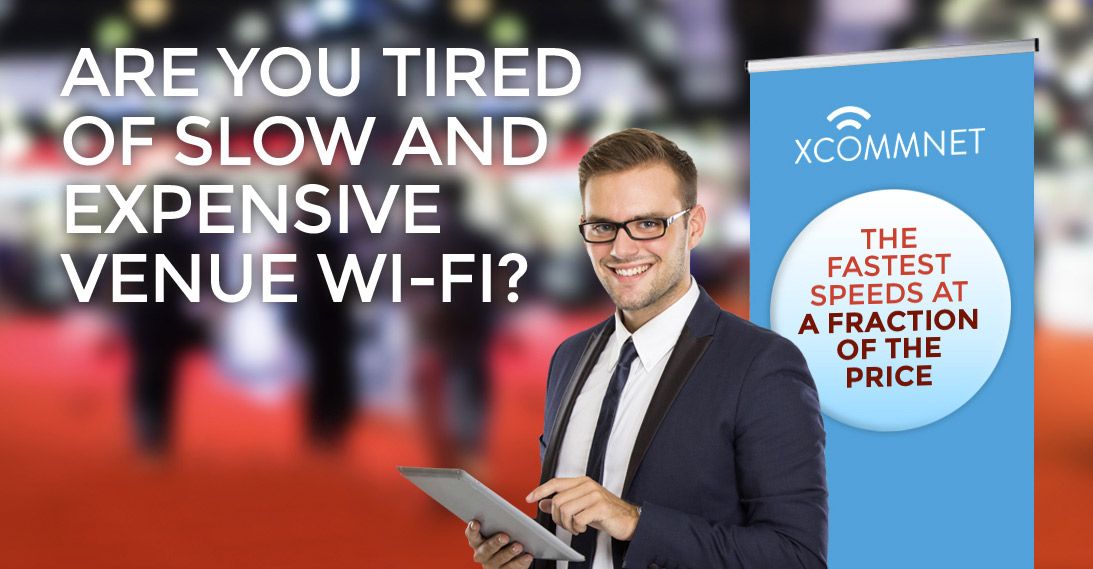 10 Mar

Tired of slow and expensive venue wi-fi?


Are you exhibiting at an upcoming trade show or event?

Are you tired of slow, un-safe and expensive host venue Wi-Fi?

Then revolutionise your exhibition, with; secure, fast and reliable internet solutions from XCommNet.

For Your Next Business Exhibition, choose XCommNet and optimise your online activity throughout the show:
Always On-Line
Super Secure
Robust and Reliable
Cost Effective
Available Everywhere
Super-fast Speeds
Our cutting-edge 'Internet Bonding Service' provides the latest in connectivity solutions for businesses and consumers alike. Through our intensive industry research, we have noticed that a big complaint for businesses across the United Kingdom is the unreliability of internet coverage at Trade Exhibitions and Events.
It has become commonplace for 'host venues' to charge extortionate prices for daily internet access at Exhibitions and because of the lack of alternative options, businesses are being held to ransom and have no choice but to pay for the often; unsecure, slow and unreliable internet coverage.
Cost Effective and Reliable
At XCommNet, we have developed technology that directly addresses this issue and provides businesses with a cost-effective and reliable internet service. Our bonding service offers available bandwidth of up to 200 Mbps, surpassing the capability of Exhibition Venues by a considerable margin, typically, you would be lucky to receive 20Mbps at an Exhibition or Trade Show. Also, when comparing the price of our service to the WI-FI provided by the Venue, the difference is huge. With XCommNet, you receive a more secure, reliable and more often than not cost-effective internet service, when compared to Host Venues.
Stand out from the Competition
Our revolutionary internet bonding service, will also help your business stand out from the competition. Through our own research, we know that on-stand demonstrations or presentations at Exhibitions that require internet access can be a lottery as to whether the connection will hold throughout, however with XCommNet you take away this uncertainty and replace it with a confidence that you can rely on your internet provider!
Embrace the Future
By investing in our technology, you are not only providing a better service for yourself and your business, but you are also showing your customers that you are a 'forward-thinker' and are open to innovative ideas. The XCommNet Internet Bonding Service, is truly revolutionary in both the technology it utilises and the performance it provides, by choosing XCommNet, you will be future-proofing your business by ensuring your optimum performance at all upcoming trade shows and exhibitions.
The Technical Bits
XCommNet offer true bonding of available bandwidth, up to 200 Mbps. A channel bonding is an arrangement in which two or more connections are combined together at an aggregation point for redundancy or increased throughput. Our multichannel routers are capable to establish multiple wired and wireless connections from any service provider including DSL, Cable, T1 , E1, MPLS, 3G, 4G, satellite and many more with NO COORDINATION required with the respective Internet Service Providers (ISP's).
For an idea of costs and equipment available click here, or to find out more, please visit our contact us page to get in touch, and stop those WI-FI woes!