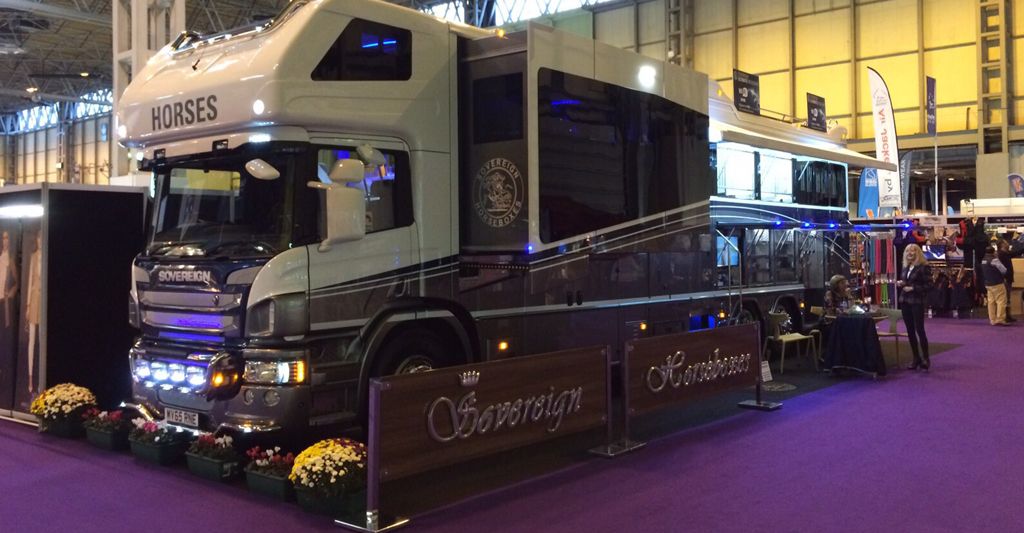 09 Mar

Sovereign Horseboxes – Case Study

Background

The UK equine market is an incredibly dynamic and developing industry, The British Horse Society estimate that 6% of the UK population have ridden a horse in the last year with the equestrian industry thought to be worth around £3.3 billion annually.

Click here for some equestrian statistics
Sovereign Horseboxes are a top tier UK manufacturer of bespoke luxury horseboxes, bringing together cutting-edge innovation, increased functionality and a genuine passion for the Equestrian industry. Each horsebox is meticulously handcrafted to meet each of the customer's requirements, and their friendly and professional customer service is a hallmark of their service.

You can find out more about Sovereign Horseboxes, by visiting: www.sovereignhorseboxes.com

Benefits

In today's ever developing and technologically advanced world, being 'online' is crucial. The extensive equestrian industry experience of Sovereign Horseboxes, meant that they recognised one of the big frustrations for riders and their support teams is the lack of high-speed internet connectivity at equestrian shows and events. This is where the partnership between Sovereign and XCommNet has come together, with the aim of developing the required technology to provide an effective solution to these WI-FI woes.

The solution provides, high-speed and uninterrupted internet coverage whether you're at home, abroad or on the go at an equestrian show.

A small selection of the benefits that the service provides, include:

· Easy to use by owners and passengers alike
· One stop solution, all components are located in one place.
· Not tied to any network
· Round the clock service support to suit your needs
· Competitive pricing for data usage

Challenge

Competitors at Show jumping events can be on site for several days at a time and it's not uncommon for upwards of 1000 horseboxes to be present at a single event. However for the riders, their actual competing time is a tiny fraction of the day, which means a lot of downtime for the competitors and their support team. Unfortunately, a lot of equestrian events are held in isolated and rural areas, with poor or non-existent WI-FI coverage.

This is where we provide the difference.

The remote connectivity provided by Sovereign Horseboxes and XCommNet is vital to help the riders and support team unwind and ensure they're able to continue with their normal day to day business and personal activities whilst they're on the road, at home or abroad.

Implementation

Together with UK Partner XCommNet, Sovereign Horseboxes have developed a solution based on the revolutionary Viprinet technology to aggregate all available bandwidth from the full spectrum of mobile operators. A bespoke and competitively priced SIM package has been put together which perfectly fits the usage profile for those in the equestrian market (only used for a number of events per year and for a few days per event).

Result

The significant research into the usability and potential of 'Cloud Internet Bonding' by XCommNet, has resulted in the conclusion that by 'bonding' together all available carrier links, a high capacity, robust and secure connection can be created that enables customers to access high-speed internet, as if they were in a fixed office location.

With Sovereign Horseboxes, the result is that this technology has now been replicated into the Equestrian Industry, ensuring that riders across the continent can now enjoy fast and uninterrupted internet coverage whilst on the road and at equestrian events and shows.
Partners Involved

As previously mentioned, this project has been a joint venture between Sovereign Horseboxes and Cloud Internet Bonding specialists, XCommNet.

You can find out more about XCommNet by visiting: www.xcommnet.com

Customer Opinion

Jim Barry, Director Sovereign Horseboxes.

''XCommNet has and continues to go the extra mile in delivering an effective solution for demanding customers in an incredibly challenging environment. We are delighted with the results that their solution based on Viprinet technology
delivers for us.

We are very pleased with how the technology has been applied into our horseboxes and we are once again proving to be a pioneer in the equine world by bringing in another market-leading solution into the industry. And it once again highlights our commitment to providing technology additions that really make a difference to our customers''. .

Products Used

A number of XCommNet's market leading products have been used in the development and implementation of this service, including: VPN 300 multichannel router, VPN 2020 multichannel hub, 3 x LTE modules, Ubiquity AP, multiple 'tough' cellular and Wi-Fi antenna.