06 Nov

XCOMMNET'S SOLUTIONS KEEP TILLS RINGING AT UK OKTOBERFEST 2017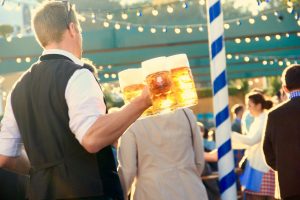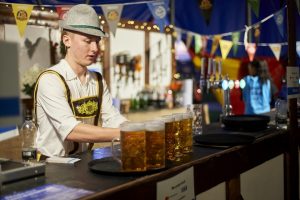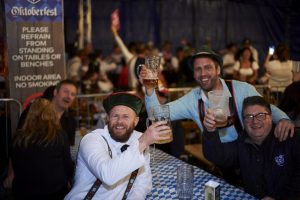 XCommNet played a pivotal role in making sure that customers were able to keep their steins topped up at the many Oktoberfest 2017 events across the UK.
Project Over view:
Challenge:
To ensure the supply of secure, reliable and resilient internet access at each of the different locations where Oktoberfest will be held, so that the client's EPOS system work efficiently.
The solution had to be resilient enough to cope with the potential congestion issues generated by a large crowd affecting any one of the public carriers.
Requirement:
100% up-time, at each of the locations, with the lowest latency, and the highest bandwidth possible to ensure the efficient running of their EPOS system.
Solution:
A multi-channel bonded line solution utilising the various public cellular LTE 4G networks
Technology deployed:
7 x Viprinet VPN 300 each with 3 LTE 4G Modules plus external antenna with 5m leads, Viprinet VPN 2020 HUB, XCommNet line bonding and hosting service from our London Data Centre and a Bespoke support package.
This is quite a high profile series of events being held at many different locations throughout the UK and in order to keep those steins full and the tills ringing, a temporary, robust and secure internet connection is required that will be able to cope with the congestion of any one mobile network that may be caused by the ebb and flow of the crowd. XCommNet were able to achieve this by deploying a bonded line solution utilising many mobile networks simultaneously, meaning if any one carrier went down in any one area, then our connections would be maintained on the other remaining carriers. This approach always pays dividends in busy locations.
XCommNet have supplied our client, with the resilient, secure and reliable internet access that they need to conduct their EPOS transactions, in a very challenging and changeable environment.
XCommNet's flexibility of service means that our solution is also able to provide a fully tailored bespoke support package to suit our client's needs, ensuring that there is a technician available should the need arise and also to monitor the situation as the events occur. This approach has proved useful in spotting congestion issues and resolving them before they become a problem and also advising the client as to the pattern of data usage so that any anomalous data usage may be investigated and handled correctly.
Our flexibility means we are able to work closely with our client helping them to maintain a continuous provision of service throughout Oktoberfest.
If you run live events and are concerned about losing connectivity, why not contact us to find out more about our unique solutions?